Creating a blog is easy, even publishing some content is not that difficult.
But reaching a good and most of all steady amount of traffic every month is the hardest part.
Some bloggers work hard on search engine optimization, some others focus everything on social media.
In this post you are going to learn how to get free and safe traffic to your blog, without even using SEO or social media!
BroadedNet : How It Works
My friend Enstine Muki had recently an amazing idea : BroadedNet.
It's a new platform, where bloggers can submit their posts, gaining credits while sharing other members posts via the widget.
Be sure to sign up and get your first 100 free credits.
Now you want to install the BroadedNet widget on your blog.
You have two options.
First, create the HTML code with the help of the "integration" page on the BroadedNet menu.
Or, if you have a WordPress blog, simply go here and download the plugin.
Now you should make some personalizations to your widget, like giving a title, choose a category and select the number of articles to show up.
You can opt to display the articles of the members or banners of different sizes.
The most important part is getting your "Broaded API", which is unique for every user and add it to your widget.
You can get by visiting your "account" page.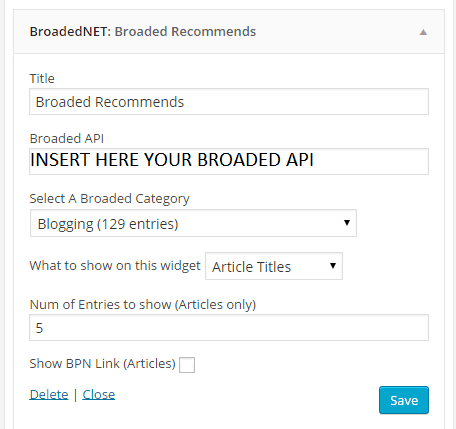 After having installed it properly, the widget will start displaying the posts from the users.
An important note : you will never be penalized for showing content on your blog via BroadedNet widget, as the articles have a nofollow tag.
Now you know that from the clicks generated via your API, you will get credits, which can be used to start new campaigns with your blog posts.
You can even choose to submit banners, instead of your content.
New BroadedNet Feature
Recently, Enstine added a new interesting feature to BroadedNet.
You can manage your widgets, by deciding which articles you want to show on your blog, together with selecting the most appropriate categories.
See:
Click on "create widget".
Enter your blog name and then start adding articles, by choosing among categories and the content available.
You can even select just the campaigns with the most credits!
When you have done, be sure to add the widget ID (see image) in the "
Does BroadedNet Really Work?
Of course!
The amount of hits you can get really depends on the title you add in your campaign (be sure to write catchy words!).
Also, you can get more probabilities to receive clicks, by adding a higher price (can be around 15-25).
See my stats:
Impressions range from 15000 up to 50000, depending on the campaign title and on the amount of price added.
I've received 100 clicks on this one : "4 Bloggers Share Their Best Ways to Make Money Online".
Conclusion
Be sure to sign up to BroadedNet today and start getting traffic without any efforts!
Once you've set up everything, it runs automagically.
Also, you want to open the emails you receive from Enstine, to stay updated on BroadedNet news and get juicy coupons for that!
(With these coupons, you can get free credits).
The project is still in beta, but already have many popular bloggers on board.
Are you a BroadedNet user?
What is your feedback?
Please share it in the comments below, thanks!