With hundreds of thousands of websites created every year, you need to be original, in order to stand out from the crowd.
If it is true that you have just few seconds to make a first good impression, then a good layout will help you a lot in this matter.
There are several free themes available for your WordPress blog, but if you want to be unique, you should get a premium theme.
BlogSpring from InkThemes
InkThemes offers you many reliable and professional themes for your WordPress blog.
You can choose one of the responsive 47 themes or purchase a full license and get access to all themes.
The good thing here is that you can even try out the theme you like more with the Trial Mode, a service not everyone offers online.
I particularly like their "BlogSpring" theme, which you can use to create an amazing blog magazine.
It has the option to choose between different colors and it includes an awesome slider to get your posts featured.
There are several styling options, custom templates, social icons and custom widgets.
It's completely mobile responsive and you can find a full documentation in order to perfectly install or personalize your site.
It also includes the social buttons below the blog posts, which help your articles get more exposure among your audience.
I like also the Facebook and Google commenting system, as it's great you can find it integrated (I needed to install the proper plugins in some of my sites to get this).
There is a widget you can use to display your posts, as the latest and most popular.
In a few words, I really would use BlogSpring from InkThemes to build my niche website.
InkThemes Features
There are many great themes available and they all share some core features.
Easy to Use
Easy installation with a single click.
You can have your wordpress theme live in a matter of few minutes.
It's also easy to tweak it and personalize it.
Mobile Responsive
It is known that more and more people are surfing the internet via mobile devices.
It is therefore imperative that you select a mobile responsive theme, in order to be ready to host visitors connected from smartphones, tablets or any other mobile gadget.
InkThemes are completely responsive, which is very important nowadays.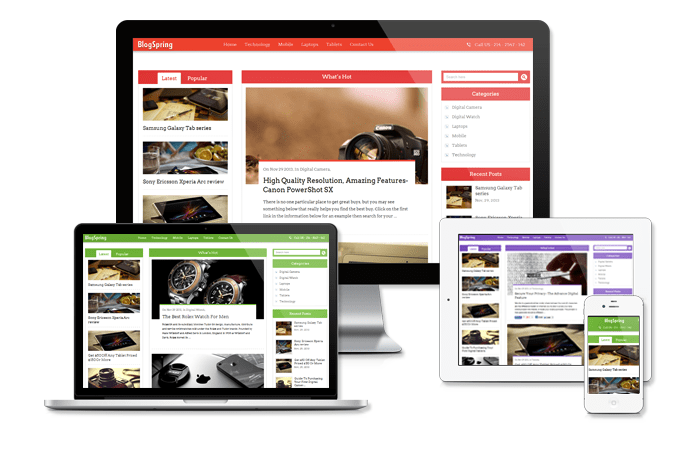 Suitable for Any Niche
They have a big range of several themes suitable for any different niche.
You can build an e-commerce, a blog, a website for your company or a paid membership site.
Whatever is your business, there is a theme for you.
Theme Pricing
There are different plans available.
With 59$ you can purchase a single theme, which you can use on multiple domains.
You will receive forum support, video tutorials, regular updates, photoshop files, advance functionality and bonus backgrounds.
Or you can choose to get all InkThemes for $147, and get access to everyone (there will be 1 new theme every month).
If you want to get the big package, then with $247  you will have all the themes and the plugins available.
Customer Support
Not everyone are a technical expert and it can be that you need some help while tweaking your site.
Or maybe you need a suggestion on how to add a particular personalization of your new blog.
Whatever are your needs, the customer support is going to assist you.
Conclusion
Starting out with the right foot is very important when you create a website.
So choosing a good professional and premium theme is fundamental.
InkThemes is a great choice.
Good luck with your new online business!