Unlike retail businesses, manufacturing companies face real challenges creating a strong website. A company that produces one product can hardly create exciting content. More often than not, the featured photos are also repetitive. Would you rely on a dull website?  
Check the key elements that a good manufacturing website should possess. Incorporate these elements so you can set your site different from the rest.  
Solid and Complete Manufacturing E-Commerce Model  
An e-commerce model refers to the essential elements that is true to all websites. It includes your "About Us" page, "Contact Us" page and your menu section. Like any other business wanting to make it in the online world, you have to establish and strengthen your e-commerce model. Your visitors will most likely be wholesalers, retailers, and merchandisers because of the nature of your business.  
Also, expect to entertain engineers, purchasing managers, product researchers, and even healthcare workers. As a manufacturer, it is best to model your website holistically. By doing so, your site has something to offer to any visitor. Your manufacturing website should reflect the steps required for industrial sales.  
Here are the steps of an industrial sale cycle:   
Discovery: 

Your visitors are in the r

esearch stage. They are looking for companies that can supply what they need. At this point, your website should have an impacting "About Us" page. Make sure that your business logo is easy to remember and so as your site URL. A company like 

manufacturing web design – Hook Agency

 can help ensure that your manufacturing website makes an excellent first impression once a visitor comes in. 

 

Research: 

Once your visitors have learned about the ty

pe of product you're offering, they would want more details. At this post, be ready to capture their interest by presenting your product specs, features, materials used, and operations procedures in a clear and detailed manner. Make sure that the font of y

our text is easy to read and understand. 

 

Sourcing: 

Interested visitors at this stage would want to see detailed pricing. It's also the best time to present your schematics to help them decide if your product is compatible with fulfilling their requirement

s. 

 

Procurement:

 While the procurement stage usually happens offline, make sure that your "Contact Us" page is complete. Include your phone numbers, address, email, and other relevant information so that interested visitors can contact you quickly. 

 
Straightforward Structure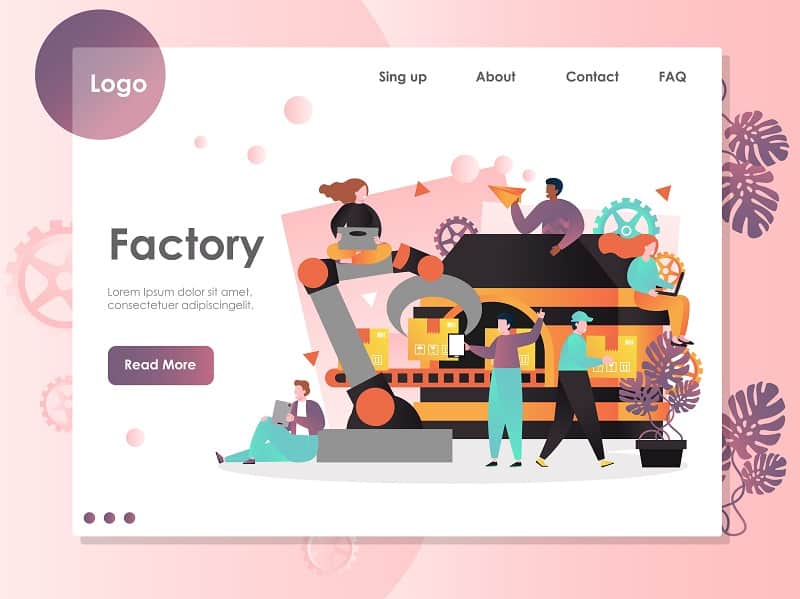 Every manufacturing process involves step-by-step procedures. The same applies for creating a manufacturing website. You may not fully understand the technical side of building a good site, but you know what visitors look for in a website. Do everything you can to present your portfolio is the most appealing way.  
Hiring a professional website designer and developer will save you time, effort, and money when building your own. Also, you're assured that your site will have a straightforward structure, from the background photos, layout design, font size, font type, to the best combination of colors.  
Here are the things that a web design company can help you in creating a good manufacturing website:  
What to include in your product 

categories

 

 

Proper placement of major menu options and product categories 

 

Site map creation for easy site navigation

 

Best areas to put your call-to-action buttons or CTAs to direct visitors to sign up or contact you 

 

Choose the best product or company photos on the different pages of your manufacturing website 

 
Engaging and Informative Content  
It's crucial to have engaging, informative, and unique content. In the first place, your content is what site visitors are looking for. Make sure that your content is also search engine optimized so your manufacturing website will rank high among search engines. Hire professional writers who can do the job regularly to ensure you always have fresh and updated content. 
Fast Loading Times  
Just like you, speed is crucial when searching for information online. That's why your website should have fast loading times. Otherwise, your visitors will leave your site from the discovery stage. They would not wait for your page to load forever.  
Many things can affect a slow loading site, such as the use of query plugins, JavaScript codes, HTML, images, and videos. A web designer and web developer can help optimize your JavaScript and perform other resolutions to speed up your website.   
Conclusion 
Creating a manufacturing website is somehow similar to any other site. However, your website should possess the major elements that can set it apart from the rest. Make sure that the images, videos, and content are relevant, comprehensive, and easy to read. More than the stunning layout, you have to create up-to-date content that can help visitors find answers to their queries. By doing so, you'll prompt them to contact you and do business.