There hardly is a retail business nowadays that cannot benefit from the integration of a suitable POS system.
Hence the straightforward answer to the question in the title of this article is a big YES! 
The best point of sale (POS) system for your budding catering businesses is one that can streamline your everyday activities and give you potential for growth. At the same time, it should be portable, because mobility is essential in the fast-paced world of catering business. 
One of the major benefits that a POS system can give your budding catering business is that it can make the life of your personnel much easier. 
Most of the catering POS systems that populate the US market at present can be downloaded on a variety of mobile devices. 
They thus allow your catering staff to manage rentals and food services, no matter where they are. Using a tablet, for example, keeps the information at their fingertips while providing related services, such as the ability to swipe a credit card onsite if needed.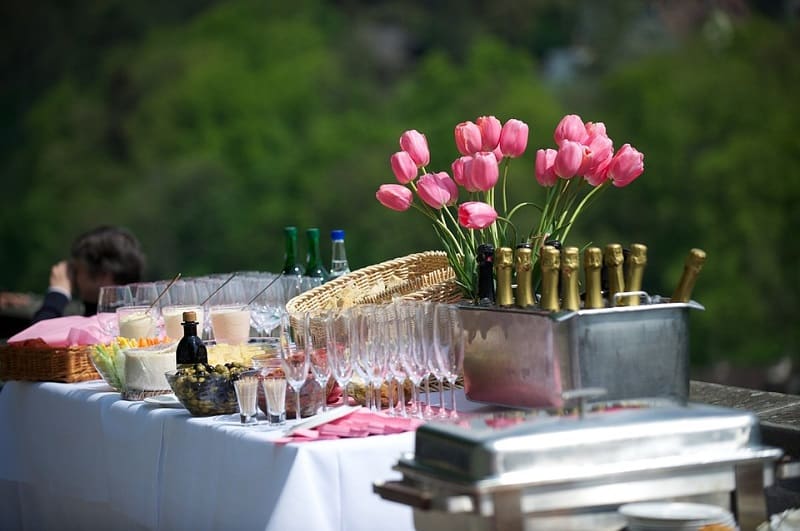 Tracking inventory with catering POS software eliminates extra steps that your personnel has got to take in this direction. Instead of having to tally the inventory manually and then record the results back at the office, this tedious task can be completed on site in one step by your versatile POS system.  
Billing is also a no-brainer with the system's ability to produce a bill on the spot. 
What distinguishes an average catering POS system from a really great one? The answer is its ready to use payment software. If you compare POS solutions that offer similar functions and are unsure which is the best fit for your catering business, the answer is the one with the widest variety of integrated payments.   
With integrated payment software, you have the ability to choose from a number of payment processing options.  
Integrated payments mean that all received payments are reconciled as you go. It also means that you do not need to bother about a payment-processing add-on.  It's ready to go. All you have to do is start taking your customers' money. 
Choosing the right POS system is crucial. There are many free, user-friendly applications that can help you easily find the right point of sale provider for your catering business.  The most popular brands currently on the market are the following: 
This is a fully functional point of sale system that doesn't need bulky desktop terminals. It thus gives the average catering business the freedom it needs to prosper. 
This is a light, portable unit jam-packed with cool functions. This POS is an all in one solution works via public Wi-Fi or 3G/4G. 
Caterers just love this POS system as it provides customer online ordering, back office order management, production planning, delivery scheduling, invoicing, reporting and e-marketing.  
This POS is perfect for businesses whose primary field is the organization of banquets and other such events. It is exceptionally easy to use and provides the most popular CRM functions along with contract and invoice management, payment processing and much more.  
This POS solution is popular among caterers chiefly for its versatility, as well as its proven ability to boost sales.  
You don't have to be a POS expert to pick the most suitable POS solution for your catering business. Articles like this one can provide you with the tips, tricks, and insights you need to make an informed decision.  
And if you're still not sure, or you're not a do-it-yourself type when it comes to advanced technology, just visit our website regularly to grab some free POS tips. Our insightful reviews can help you pick up some essential information about your business sector, the latest trends in your location, and thus you'll get a clearer picture of the goals you have in business.  
The best about POS reviews and articles like this one is that my fellow writers go through heaps of info on the subject and give you the most useful of it on a silver plate. 
If you are in the catering business, you know how many moving parts there are to keep an eye on. From leads and scheduling to staffing, payroll, inventory, and more, catering is a truly fast-paced business. 
The benefits that small catering businesses gain from the implementation of specific POS software are more than a few.  
First and foremost, the POS software specially tailored for catering has the abilities to simplify all mundane everyday tasks. This means that your POS system can save you both time and money. 
Catering managers can easily track sales volume, staff performance and inventory in real time from any location. Accurate reporting helps managers analyze and interpret sales data, calculate profit and forecast their future sales. 
With the aid of a flexible and versatile POS system, caterers can increase the time spent communicating with customers. This improves the efficiency of their business which will inevitably lead to higher sales. 
POS systems can support your catering company as it grows. Additional hardware can always be purchased and added to terminals already in use, connecting to the software that's already installed.  
The POS systems that I have listed above are just a few of the many POS options for catering available on the US market today. 
I hope that reading this article has helped you narrow down your POS search and determine the best three to five POS solutions for your catering business. Take advantage of what I've written to put your catering company in the best position to prosper and outgrow the competition. 

Provided by Quikserv