Whenever working on a project, it is important for the team to employ the right tools to ensure that tasks are assigned and completed in a timely manner. There are various project management tools that can make the management of projects much easier.  
Many project management tools have advanced well beyond simply keeping track of tasks. They have advanced to become multi-functional software. While much more can be achieved using these tools, making a choice as to which is suitable is becoming harder for project managers. Learning how to make use of these tools is extremely important in business and project management. It affects output and revenue. If you're looking for business or personal loans, you can compare a few personal loan plans here.  
Below is a look at 10 of the best project management tools for projects and businesses.  
1. Asana
Asana meets basic project management needs in a clear and clean way. This online tool allows for the creation of workspaces for individuals or teams that they can fill with ongoing tasks or projects. Tasks are tracked, and users can be notified of changes and updates via email.  
2. Casual
This online tool simplifies the management of projects by turning their tasks into workflows that you can easily navigate. It comes with a highly intuitive interface that enables users to jump right in without the need for previous project management training. It is extremely simple to use and easily integrates with other tools such as Google Calendar, Google Drive and Dropbox. It also has an app that can be used on Android or iOS.  
3. Basecamp
This is an excellent tool for those just starting out with project management software. It provides a centralized location for team and companywide communication and projects. This makes communication to the team easier, as there is a centralized messaging board. Managers can also easily assign and track tasks from the to-do section. Scheduling meetings and sharing important files is also easier on this tool.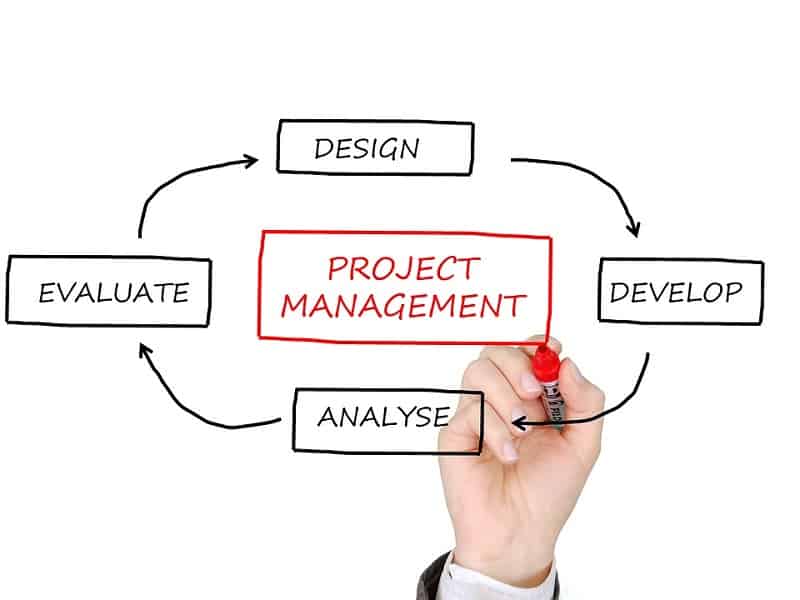 4. Trello
This tool is perfect for those who aren't familiar with project management vocabulary or tools such as the Gantt chart. It is highly intuitive and visual with a card-based design.  
Each card on the tool represents a list of tasks. The cards can be moved around in order of priorities. Cards can be opened to create lists and upload files amongst many other tasks. The cards can be updated via email too, making it easy to keep teams on track while on the go.  
5. Flow
This tool is specially designed for simplicity and speed. It is therefore, a user friendly and straight forward tool to use. Assignment and tracking of day to day tasks is much easier with this tool even for those that aren't familiar with project management tools. Companies will spend little time getting their teams proficient in its use.  
6. OmniPlan
This tool is one of the best for use on iOS. It offers a simple and clean interface that presents all the important information about the project in one place. Users can quickly find their way around and figure out how to make use of the tool without much training. Creating, assigning and grouping tasks, organizing project workflow as well as establishing hierarchy in projects is simple and easy.  
7. Paper
This is a great solution for companies with projects involving a lot of documents, files and images. The system allows for the collection and storage of all these documents in a central location. Teams can quickly share ideas by referencing documents, software tools, images code and much more.  
The tool also integrates with other tools such as Trello, InVision, Slack and many more to allow the team to stay on top of tasks.  
8. Todoist
This tool places a lot of emphasis on communication. It also ensures that teams can stay on top of their tasks from anywhere. The tool covers many of the basics and is still simple enough for any beginner to use. Project teams can also access it via apps or extensions on at least ten different platforms making collaboration much easier.  
9. Jira
This is a great tool for tracking day to day tasks. It is a feature rich tool that was built with a great focus on collaboration. Managers and team members can quickly view the progress of tasks. Creating, assigning and managing tickets is easy with this tool. Being feature rich however, means that there is a steep learning curve for many when it comes to using some of its tools. It however does just about everything that any company would hope for with a project management tool.  
10. Pivotal Tracker
This isn't a tool for beginners. It is perfect for more agile project management. Once mastered, management of projects can be done with greater ease. In addition to having a drag and drop interface, the tool features an analytics tool that can help to measure project efficiency based on previous projects. It also has excellent mobile apps for use while on the go.  
The tools above are excellent for project management. With their help, businesses can keep track of tasks and ensure that nothing falls between the cracks.